Archive for category: General
Web Ideas & Tips Blog
Submitted: 1-Apr-2019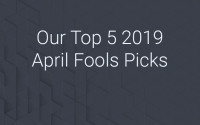 We love seeing the clever and silly things people do for April Fools! It's a great way to engage your audience, reach a wider range of people through likes and shares, as well as giving your brand a more approachable and playful tone of voice.
Here are our top 5 marketing schemes for April 1st 2019.
...
read more
Submitted: 19-Nov-2018
When you have an issue or changes that you want made to your website it is most effective for you to contact Web Ideas through our Helpdesk system and you will hear back from us faster than emailing a specific employee.
...
read more