Archive for category: Online Shopping
Web Ideas & Tips Blog
Submitted: 7-Feb-2020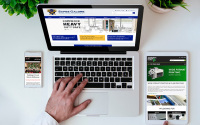 Online shopping on a global scale is booming and Australia is no exception. More than 73% of Australian households participated in online shopping in 2018. Learn how to make the most of your shop by selling online.
...
read more
Submitted: 25-Oct-2019
Does your business provide people with great holiday gifts through packages and gift vouchers? Is it easy for people to purchase these amazing deals on your website? It can be.
...
read more