Why Migration of HTTP Sites to HTTPS Was The Right Move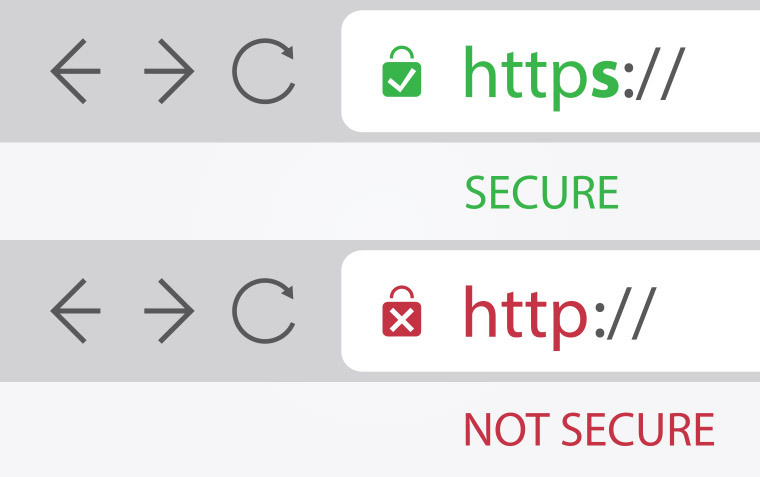 You may have received an email from us recently letting you know that we've migrated your hosting from a HTTP package to a more secure HTTPS package. This is an important migration as web browsers have begun to more visibly mark HTTP sites as "not secure" which can hurt the trust potential and existing clients have in your brand. In contrast, having a HTTPS site gives visitors a green "secured" padlock when visiting your site.
So what are they?
HTTP vs HTTPS: An Overview
HTTP stands for Hypertext Transfer Protocol and is the system that is used to transfer information from web servers (where your website is hosted) and browsers (where your website is viewed). To sum it up: HTTP gets your data from point A to point B; however it doesn't care how your data gets there, or who sees it on the way.
HTTPS (Hypertext Transfer Protocol Secure) is simply a secure version of HTTP and does care about how your data gets from point A to point B. It's secured through an SSL (Secure Socket Layer) certificate which encrypts the data as well as providing data integrity and authentication of the user. HTTPS was originally used primarily for ecommerce sites but has become increasingly important for all sites.
Why We Migrated to HTTPS
In recent years Google has been placing an emphasis on providing its users with the best experience possible, which includes security of data. Small ranking boosts have been given over the years to HTTPS sites, and as of the beginning of June this year HTTP sites will be punished by marking them as not secure in a Google search.
But it isn't just Google driving this change. Ensuring that your clients' data is secure helps your business; making your customers & clients feel safer providing any of their contact details (and especially their payment details) with you. This security sees an increase in purchases on ecommerce sites as well as increased lead generation on information sites.
Potential Issues With The Migration to HTTPS
When we convert your site we do our best to ensure that all core elements and any links your site has throughout it are also secured through HTTPS but we do sometimes miss things.
We recommend visiting your site and checking that everything you expect to happen is working and that you do have a "secure" padlock in your address bar whilst on your site.
Unfortunately Google and Bing don't automatically reindex your website with the new HTTPS hosting so if you manage, or have someone else managing, your Analytics and Webmaster tools you will have to update the address manually as soon as you can. If we are managing Analytics and Webmaster tools we have already made those changes for you.
If you have any issues or questions please don't hesitate to contact us.