Mobile Friendly vs Mobile Responsive Web Design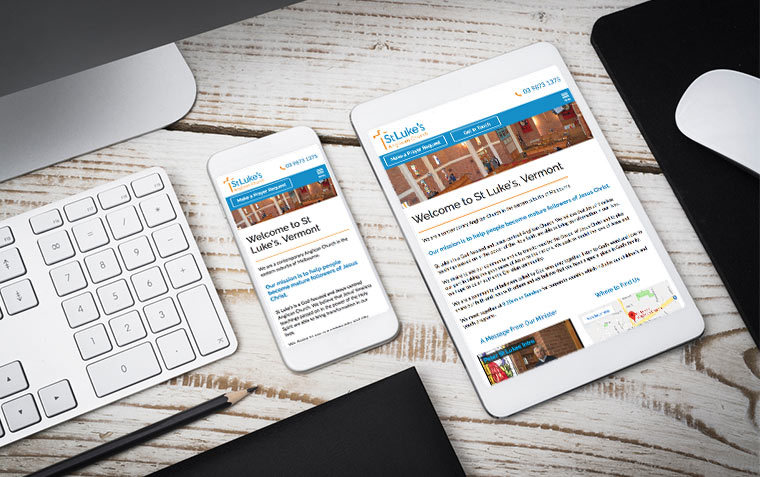 We all know by now that your website needs to work well on mobile devices (if you haven't yet, have a read about why your website needs to work on mobile) and there are two paths this can lead you: mobile friendly; and mobile responsive.
What is the difference between them?
Mobile Friendly sites are separately designed websites which load up on a mobile device so you end up with multiple versions of your website. They are static in their sizing and are customised for each screen size.
Responsive Websites are built using percentages of the screen and refit the content to each change in screen size. They are seen by Google as best practice because they adapt to your screen device so will perfectly fit your smartphone, or tablet, or desktop regardless of screen size.
Which is better?
At Web Ideas we recommend a mobile responsive design to ensure that your web users have the best experience you can provide them as well as for ease of maintenance for you.
Why is responsive better than mobile friendly?
A responsive web design has a number of benefits over a mobile friendly design: Adaptability; Seamless User Experience; Lower Maintenance; Improved Search Engine Optimisation (SEO); and Traffic & Analytics.
Adaptability
The key point of responsive websites is their ability to adapt to any screen size; something which is of increasing importance as there is no standard screen size that every phone uses. Even within the same company you get a variety of screen sizes. A perfect example of this is Apple having an iPhone PLUS for all the latest generations. Responsive websites will fit themselves to the correct size for the device it's being viewed on and ensures that nobody has to experience the frustration of the "pinch-and-zoom" just because their screen size wasn't used to create the website design.
Seamless User Experience
Relating to the previous point, this adaptability provides the best user experience to all regardless of what device they are using at the time. Many people will end up using multiple devices across a search. This means that a single user is likely to visit your website on more than one size screen and expect the experience to be comparable and consistent.
Lower Maintenance
With a responsive website you only have one website to manage and maintain. Everything is centralised and stored in the one place which means that when you make one change to your site it updates across all mobile and tablet devices, as well as desktops. There is no more worrying about updating every version that you have of your website and you know that you haven't missed something somewhere.
Whilst set-up costs for a responsive website can be higher up front than a mobile friendly site you save a significant amount of money, of time, and stress in the long run in maintenance and content management updates of your site.
Improved Search Engine Optimisation (SEO)
Google has been putting more and more focus on the user's experience in recent years and, as a consequence, have adjusted their algorithms to put more focus on websites that can provide the best user experience. The most notable change in how Google ranks your website is with the introduction of mobile-first indexing to ensure that mobile users (76% of the Australian population) get the best experience when using Google. Responsive websites follow Google's best practices because all the information is the same across desktop and mobile which can help you rank higher.
Traffic & Analytics
One of the best ways to ensure your website is doing what you want it to do is by installing Google Analytics and adding your site to Google Search Console. This is something that we do as standard for all our new websites and with just one responsive site you can easily view and compare all your web traffic regardless of device. This means that you can track how your website is going on all devices side-by-side for the best comparisons.
How do I find out if my website is mobile responsive?
There are two simple ways to check if your website is mobile responsive. The first is to check your website on your mobile in both portrait AND landscape. If your site is responsive it will adjust the layout to better fit the wider screen whilst a mobile-friendly website will resize the content to fill the screen but not make any changes to the layout. The second option is to load your website up in your desktop browser and resize the window. A responsive website will adjust the content to fit into the new window size.

If your website isn't mobile responsive we suggest you contact us to discuss your business needs and to see if a Web Ideas responsive web design is right for you.