Custom Website Design
Websites that are tailor made to fit your business perfectly
Custom Website Design
You may have several problems with your current website design. Perhaps your website isn't user-friendly, doesn't align with your brand, or isn't generating the results you want. These issues can cause frustration and prevent your business from reaching its full online potential and can all be a result of NOT having a Custom Website Design.
The average template web designs are limited and may not fit your business. This can cause your customers to get lost looking for your products or services or just give up because the site does not make sense. Your site may even look like one of your competitors because you both have the same template, selected by your web designers.
Our approach is to create a Custom Website Design for every client. We make sure we understand your customer needs, behaviours & responses, to build a website that not only looks great but fits your business perfectly. Why waste time building a website that just doesn't work?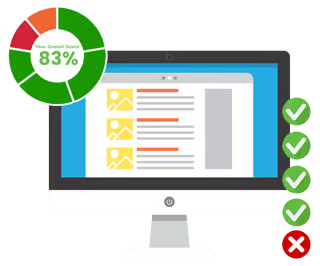 How
Perfect

is your website?

Take our short 6 minute quiz of 12 multiple choice questions about your website and you'll receive a score and tips for improvement.
Work We've Done
Latest Custom Website Design Portfolio
View our full custom website design portfolio

Qs & As
Common Custom Website Design Questions
News and Information
Custom Website Design News & Information